Banh Xeo is a famous dish in the rainy season in Danang. It is sold everywhere in this city, from the corner to the road. Each region in Vietnam has kind of different banh xeo. In the Southern region, it is larger with having more vegetables and "mung" beans. But in the center region, it is smaller with pouring in a mode and without "mung" beans.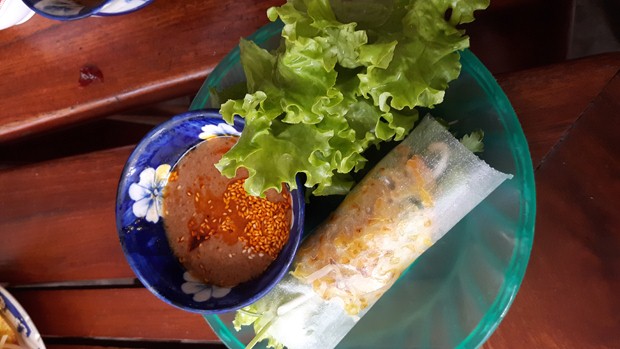 In there, we would like to introduce banh xeo in the center. It is considered as savory and delicate crepe made of rice flour, turmeric powder, and various meats such as pork, beef, shrimp and vegetable such as bean sprouts.
After combining rice flour, turmeric powder and mix well. Let the ingredients meld together for about 20 minutes and add green onions. Marinate the pork, beef and shrimp with salt, pepper and little sugar. Before starting to pour banh xeo, it makes sure to have a nonstick pan. It is very important to make it successfully. You turn on the stove and pour little cooking oil into the nonstick pan. After that, you wait  one minute to heat up oil, you add onions, pork, beef, shrimp and after that you pour flour mixture  and quickly swirl the pan to evenly distribute a thin layer batter to the very edges of the pan. Try to pour for as thin a layer as possible.
Placing a lid over the pan for about two minutes, you add bean sprouts. When banh xeo is almost completely cooked, the edges of it start to curl up a bit and turn golden brown.
The special of banh xeo in the center region is sauce. Sauce is made from minced pork, pork liver and crushed peanuts. Enjoy Banh Xeo with plenty of lettuce, endive, mints, basil, and perilla. In the center region, people wrap it spring roll style with rice paper.
By Phuong/Ms (Indochina Charm Travel Danang)