Actually there are more than 200 overnight cruises in Halong Bay Vietnam, you will have a lot of headaches to choose the right trip for you. Below are shared experiences about cruise lines from good to high-class, different itineraries to visit Ha Long Bay and the surrounding area, interesting activities in a tour, and essential notes before making best Halong Bay cruise booking.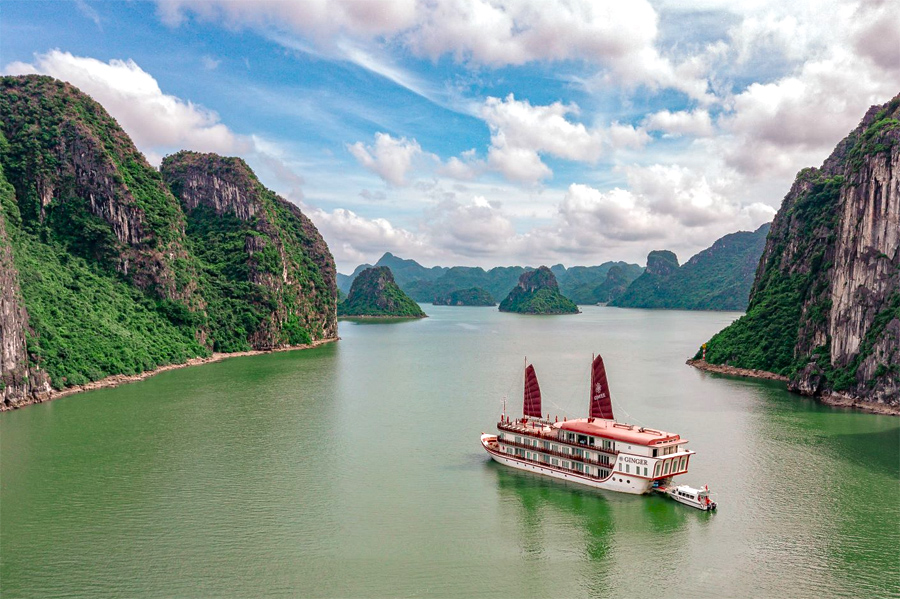 How long do you want to visit Ha Long Bay?
The Vietnam Tour to visit the bay has 3 types of schedules: Halong Bay day tour by boat (usually 4 hours on board), Halong Bay tour 2 days 1 night (1 night sleeping on cruise) and Halong Bay tour 3 days 2 nights (2 nights sleeping on cruise)
Halong Bay Cruise Day Tour
With Halong Bay day tour by boat, the most popular option is the tour to visit the bay within 4 hours. You can choose to depart from the pier at 8:00am, return to the pier at 12:00pm, or depart at 12:00pm and return to the pier at 16:00. With this 4-hour tour, you can choose a private boat (only your group), or a shared boat (travel with other groups of guests, usually from 20 to 40 guests, depending on each cruise).
In addition, you can also choose a longer itinerary to visit the bay, from 6 to 8 hours, but you need to hire a private boat for these schedules, few shared boats have such a long journey as required.
However, I personally prefer to spend the night on the boat, will have enough time to go to the rocky islands, caves, participate in interesting and new activities such as visiting fishing villages, boating, watching the sunset on ship deck…
Halong Bay Cruise Tour 2 Days 1 Night
The 2-day-1-night Halong Bay Cruise Tour is very popular with foreign tourists, and newly wanted by Vietnamese travelers. In this tour, in addition to resting and eating on the ship, you also participate in outdoor activities (kayaking, visiting caves, visiting fishing villages, going to the island …).
Halong Bay Cruise Tour 3 Days 2 Nights
If you have more time, you can join the 3-day-2-night Halong Bay Cruise Tour with more time to go further, continue to visit the islands and beaches clean, quiet, deserted by kayak, bamboo boat…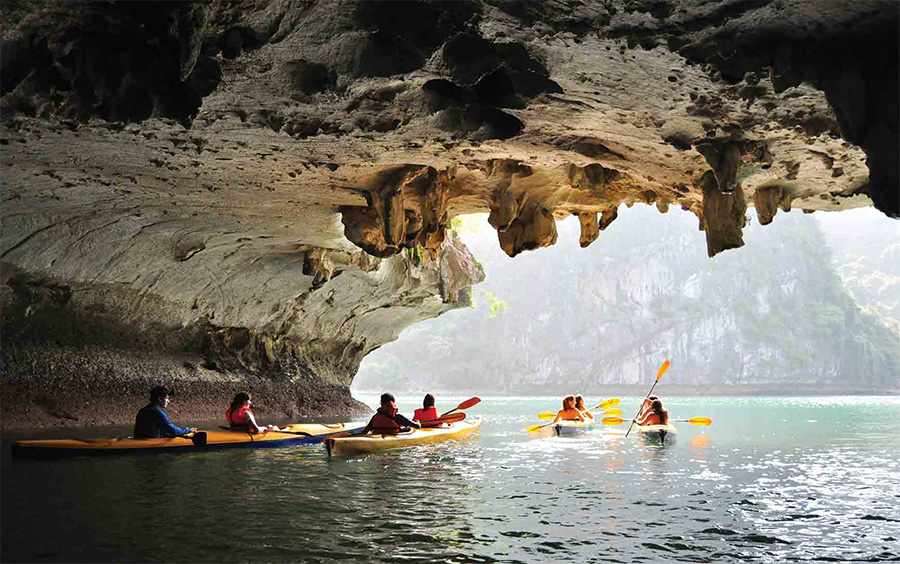 Which destination to go: Ha Long Bay, Lan Ha Bay or Bai Tu Long Bay?
Isn't it strange, you went to visit Ha Long Bay? We all know the name Ha Long Bay, but actually, Ha Long Bay is divided into 3 bay areas: Ha Long Bay, Bai Tu Long Bay and Lan Ha Bay…
These three bays, in general, all have similar landscape and structure of limestone mountains, caves and beaches; In which, Ha Long Bay (with Titop island and Sung Sot cave) has the most tourist boats, is a traditional route, so it will be more crowded.
Bai Tu Long Bay (located in the East) and Lan Ha Bay (located in the South) still retain the wild and quiet look due to fewer cruise ships. Tips:
If you want to combine a visit to Cat Ba Island, you can choose a tour program with a visit to Lan Ha Bay, some companies have an overnight program in Cat Ba.
If you want to experience a private, quiet and fresh space, I suggest you to visit Bai Tu Long.
The Halong Bay Cruise Booking usually includes several activities such as: visiting caves, visiting fishing villages, pearl farming areas, swimming, kayaking (you row by yourself), canoeing (rowed by local people); early morning nursing practice, cooking instruction, night squid fishing, and cycling (usually only in 3 days 2 nights program, visit Lan Ha Bay area, on Cat Ba Island). You should also refer to the specific itinerary of each company to know what activities you will participate in.
Which ship to choose for best Halong Bay cruise trip?
After navigating your destination, it's time to search for a suitable boat. Ha Long Bay has many different types of boats, big or small, wooden or metal, how convenient is the bedroom…Take your time to choose an appropriate ship for you.
The shape of the ship, the number of bedrooms, and the standard of service are important factors in deciding between ships.
In terms of shape, since 2012, all ships in Ha Long are required to be painted white, so if you see the image of the ship with brown color, it is no longer true. The ship has 2 main groups: the wooden boat group (usually with less than 16 bedrooms, the bedrooms are usually about 15m2, with a bathroom and toilet in the room) and the metal ship group (usually with 16 or more bedrooms, spacious rooms with more amenities).
Boat service standards, you can refer to the quality rating on TripAdvisor.
What does the price of Best Ha Long Bay Cruise usually include?
Most tour prices include "almost all" accommodation costs, except for drinks, transportation to the pier, personal expenses.
"Almost all" does not mean "all", so double check following items carefully:
Car price: usually you depart from Hanoi (pick up at Hanoi Old Quarter area), go to Ha Long and return, you check the price of this car included or not. If not, please check the price of the car if you need to use this service to book in advance.
Fee for kayaking / canoeing
Entrance fees to Halong Bay and its sightseeing points.
In case any item is not clear, please contact the tour company and ask clearly before deciding to book.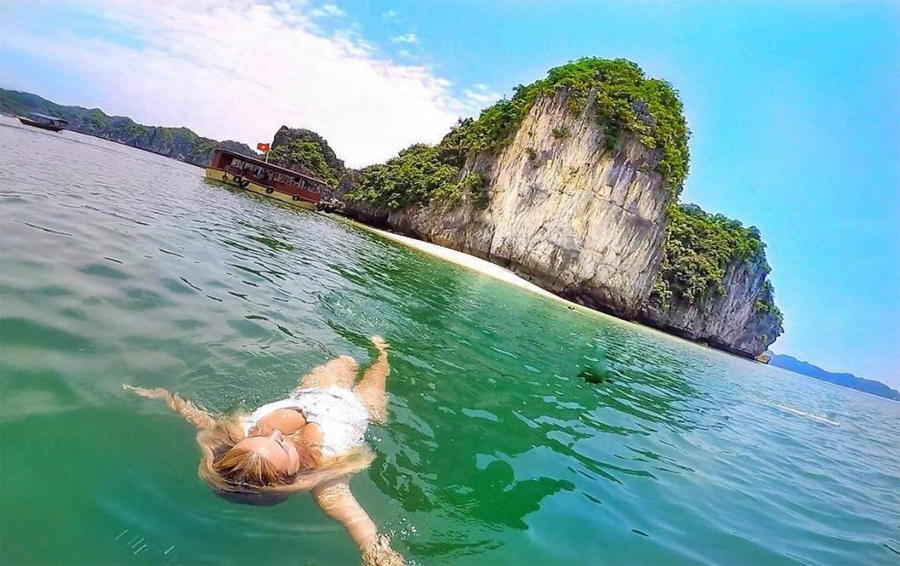 What is the reasonable cost for a Ha Long Bay Cruise Tour?
Comparing the expenses for staying at hotel and on the cruise, the Halong Bay cruise overnight tour price will be higher, because it includes the services in the tour, not just the room. If you search for information online, or contact tour agencies, you will see that there are many different prices for the same tour. So the advice is spending your time to investgate information and book with reputable travel company for this special experience.
A tour with a low price, means under US$100 per person per night, you can stay on an old ship, or the quality of the meal or service is everage.
With 2 days 1 night seat-in-coach Halong Bay Cruise Tour, you should pay from US$100 peer person to choose a suitable and quality service.
With 3 days 2 nights seat-in-coach Halong Bay Cruise Tour, you should look for options from US$ 200 per person.
During the period from May to the end of September, you can get very good prices from some best Halong Bay cruises, that is the low season for international tourists but Vietnamese people travel a lot. If you will fall into a group of Vietnamese tourists, you will happily get used to their noise (sometimes) or your trip will become a torture!