Halong Bay in Vietnam will stop meals in caves. It was the confirmation of the President of Halong City, Mr. Pham Hong Ha, in the press conference held at 08 Sep 2016.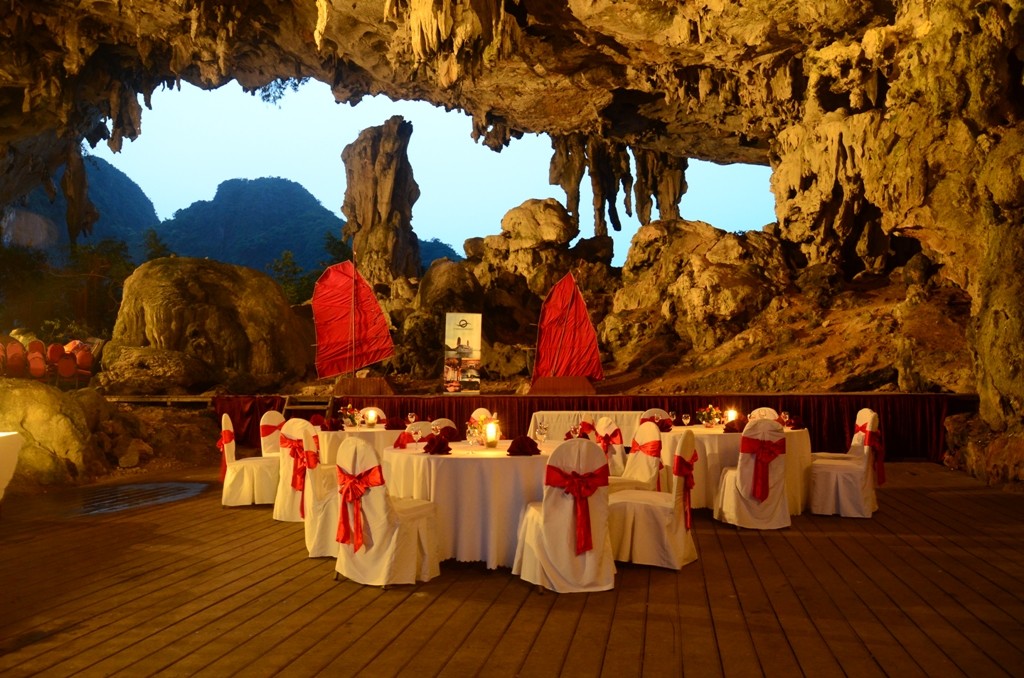 Savor seafood on board a traditional junk, on sandy beaches or in a cave … is certainly a wonderful experience for all travelers in the trip in Halong Bay. But, how to organize this unique product while retaining the value of this Natural Heritage of the World? But firstly, according to experts, we should prohibit to organize the food service in the caves of Halong Bay.
Regarding the content of the press on the organization of food service in the caves of Halong Bay, Mr. Ha recognized that it was right and sometimes it's uncontrollable.
Mr. Ha has informed that the People's Committee of Quang Ninh announced the cessation of food service operations in the caves in Halong Bay before 30-9-2016. In the near future, the local authority also would prohibit cooking meals on the day boat to avoid the risk of fire and garbage in Halong Bay.
Mr. Ha has also informed that since 2005, the province has accepted that the Halong Tourism Services Company organized meals and shows in Trong cave to create more tourism products.
However, recently, this type of service is organized in many caves in Halong Bay as cave of Tien Ong, Dong Tien Lake, cave of Co, Trinh Nu Cave…
To maintain an intact way the natural values ​​of Heritage of Halong Bay, in addition to the prohibition of organizations and individuals to organize meals in caves, the provincial People's Committee of Quang Ninh has asked the city of Halong to announce this news to the tourism businesses.
In the near future, the province will be in collaboration with the concerned offices to check planning, plans…of Halong Bay for the development of tourism but by ensuring the safety, order, protection of environment…and by respecting the law to protect natural and cultural heritages of UNESCO and the Vietnam law.
Before the conference, the mayor of the province, Mr. Nguyen Duc Long, refused the request of the Thien Cung tourism company to organize the food service on the island of Chan Voi in Halong Bay.