As a traditionally unique festival of the locals in Do Son District, Hai Phong City, Buffalo Fighting Festival stands out of the list of the most favorable festivals in Vietnam. Have you ever heard anything around this remarkable event? Whether or not the answer is a big YES, it is worth pointing out that this festival is linked to customs of Water Goddess worshiping and sacrificing. Besides, it is to value courage, heroism, and daring spirit of humans in the coastal city of Hai Phong.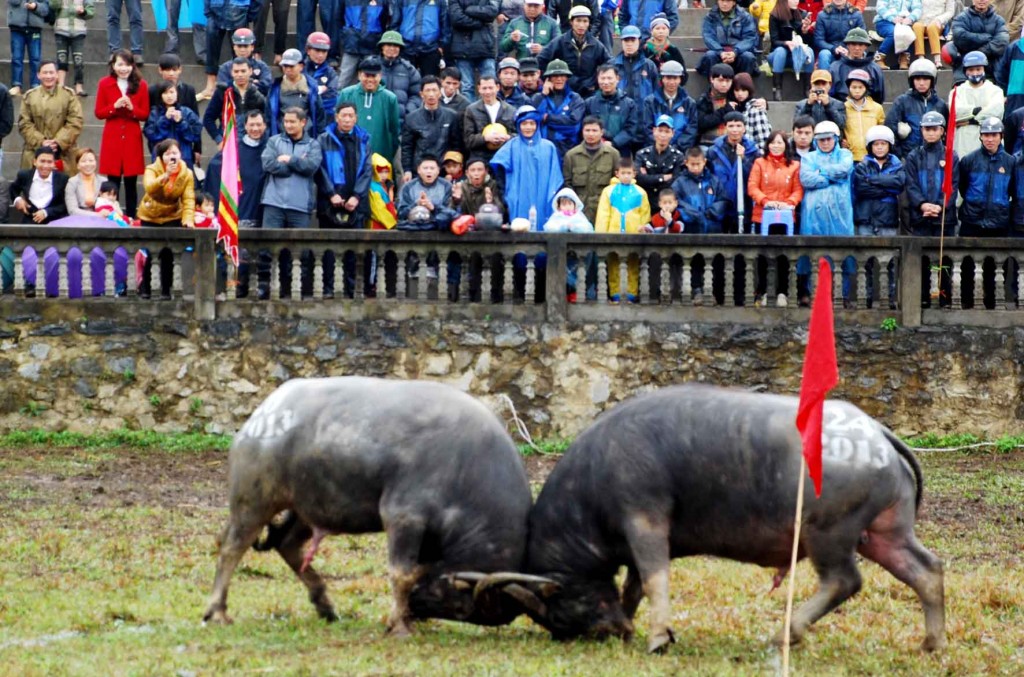 Buffalo Fighting Festival – Enjoy Combined Traditional Merits
The festival comes from perspective of Do Son's people that Buffalo Fighting is preferred with guardian Gods; therefore a celebration of this event triggers great senses of secure voyages, rich crops associated with healthy and wealthy individuals. Historically, Do Son Buffalo Fighting Festival has been long performed in the area since the 18th century. This fantastic event happens annually and is officially taken place on the 9th day of 8th month according to Vietnamese Lunar Calendar; meaning this festival's processing preparation requires participants about one year.
After purchasing the right buffaloes, the locals then raise and train them – all of which call for hard work and ongoing attempts. For instance, the choice of fighting buffaloes must be done meticulously with an array of requirements such as 4 – 5 year olds (at least), broad chest, bow-shape horns, long tail and solid thighs. Then, these chosen buffaloes are held separately from the general ones.  In regards to Buffalo Fighting Festival's celebration, it's made up of two sectors: spiritual rites and entertaining activities. Here is how it happens:
Since the 1st day of the 8th lunar month, the elders perform a sacrificial ceremony towards Diem Tuoc God with contribution of all villagers who own buffaloes partaking in the event right in the General Commune House, Do Son District. Then, there stands a ceremony worshipping Water Goddess, where sacred water is altered on an annual basis and transferred to every village to worship in their own Village Hall. After that, there also exists Tutelary God worshipping rite. Once the rite is done, each fighting buffalo is named "Sir Buffalo" in an official way. "Sir Buffaloes" are representatives of the local's spirituality, wish, and belief.
In the early morning of the 9th day of the 8th lunar month, the locals go ahead to Village Halls to lead the "Sir Buffaloes" to the area where is fulfilled with turbulent music made from traditional orchestra, colored palanquin and festive flags. In the same day, entertaining activities are performed joyfully emphasizing Vietnamese traditional identity. At first, 24 muscular young men stand up in two rows flexibly expressing flag dance in engaging sound of drums, gongs and cymbals. In such urgent ambiance, "Sir Buffalo" is triggered to fight in battle more robustly.
Two buffaloes are led into battle from two opposite gates to start fighting. They attack the opponent till one of them runs out of the battle. At the end of the day, the victorious buffalo will be sacrificed or killed to worship Water Goddess. Note that the owners of wining buffalo will be rewarded with a full happy, safe, and prosperous year. It's all for happily wealthy life, luck and good fortune.
Vietnam Travel Information