Vietnam is one of the most popular destinations in Southeast Asia, this beautiful country not only attracts tourists by famous landscapes, wonderful beaches for sunbathing, but also appeals to us through the various kinds of tradition foods.
You like to experience, you love to discover and you are persuaded by traditional factors easily.
You have big desire to enjoy all dishes which are made from the essence of the cuisine, because you know that culinary experience is the way to approach Vietnamese culture and local people deeply.
So there are 5 specialized traditional street foods (representative foods for each region of Vietnam) below that you must try when you travel to Vietnam.
1. Phở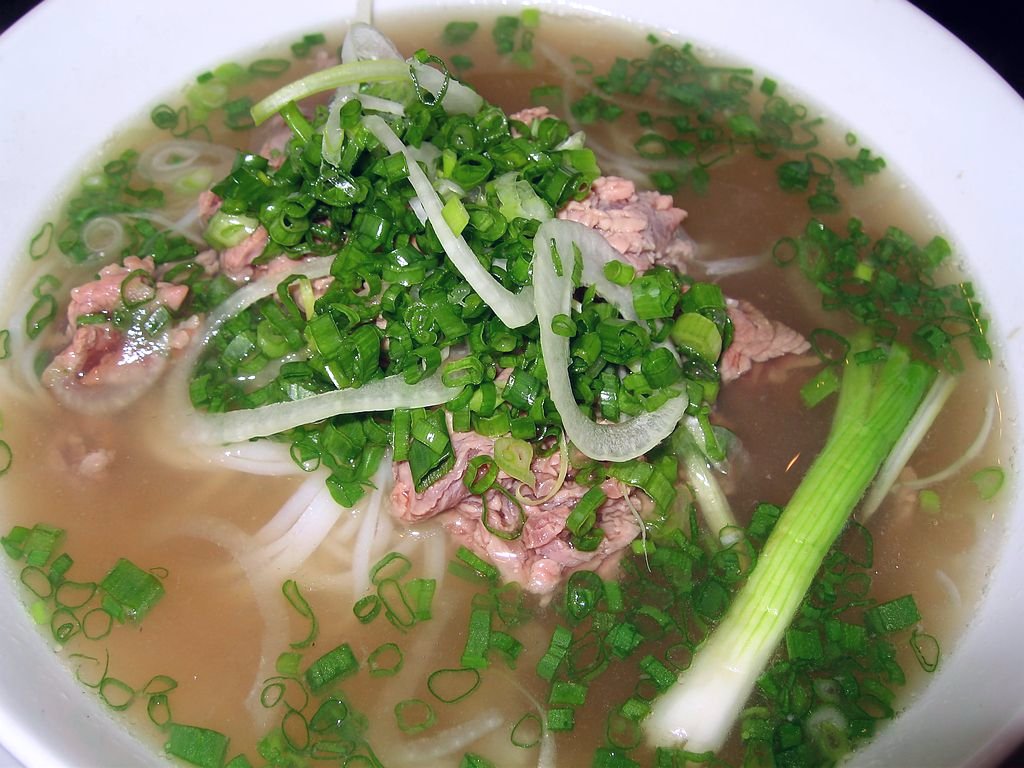 Pho is Vietnamese famous specialty that you can find anywhere easily on the streets, we can eat Pho at luxury restaurants with professional attendants or any vendors. As a result of that, the price also is flexible, from 30.000 vnd – 70.000 vnd/bowl
There are 2 specific flavours which we would like to introduce you: Pho with Northern style and Pho with Southern style. However, these are traditional cuisine which Vietnamese people always are proud of introducing to international tourists.
And there are some addresses which you can reference in order to make your Vietnam trip more interesting and colorful:
Hanoi
– Pho Suong: it is located on Dinh Liet Street
– Pho Ly Quoc Su: it is opposite No.33, Nha Chung Street
– Pho Thin: No.13 Lo Duc Street
– Pho Bo Hang Dong: No.46 Hang Dong Street
– Pho Bat Dan: No.49 Bat Dan Street
Saigon
– Pho Hoa – add: 260C Pasteur Street, district 1
– Pho Lệ – add: 423 Nguyen Trai Street, district 5
2. Bánh xèo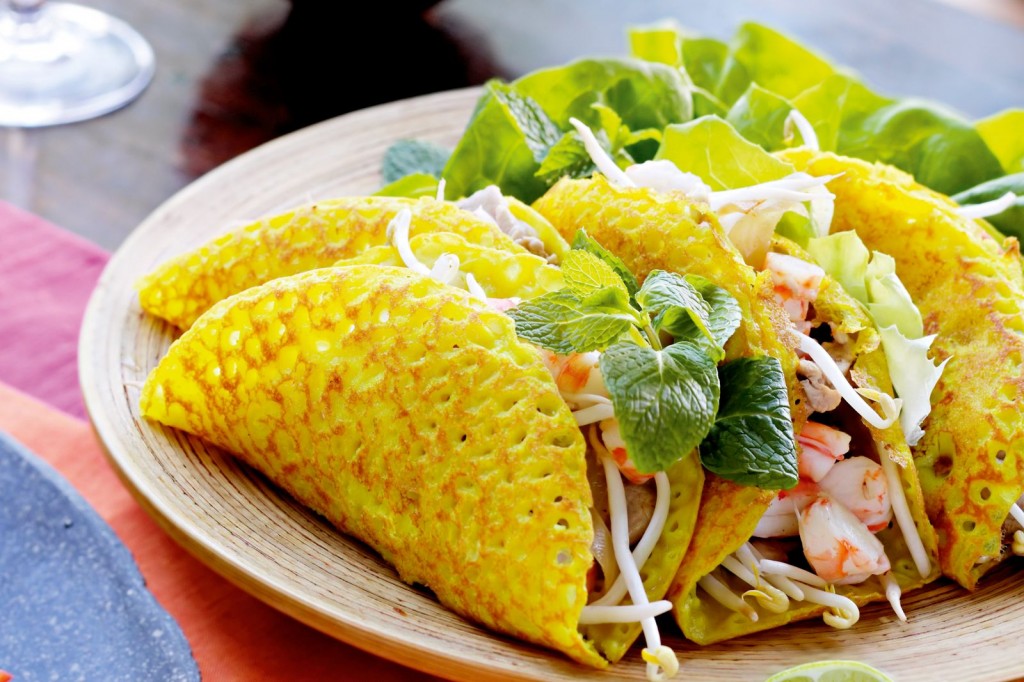 This ia popular pancake in the South and in the Middle of Vietnam, local people usually eat Banh Xeo on cold days in small kiosks. Banh Xeo appears at families gathering, friends meetings, they eat Banh Xeo as the way to start conversations. You can find places where serve Banh Xeo with many different styles easily.
Let's imagine that you see a vendor girl who often buys Banh Xeo on Saigon's street, why don't call her, take a seat then enjoy marvelous taste crisp Banh Xeo.
You should ask local people famous places where serve Banh Xeo, but we also want to suggest some places in Saigon as below:
– Mười Xiềm: there are a lot of branches, you can find Muoi Xiem restaurants easily throung asking local people who live near here.
– Long Huy restaurant – add: 129 Cach Mang Thang 8, ward.5, district 3, HCM city.
– Thanh Dieu Inn (Banh Xeo with the Middle of Vietnam style) – add: 164 Nguyen Thi Nho, ward 5, district 11, HCM city.
3. Cao lầu – Mì Quảng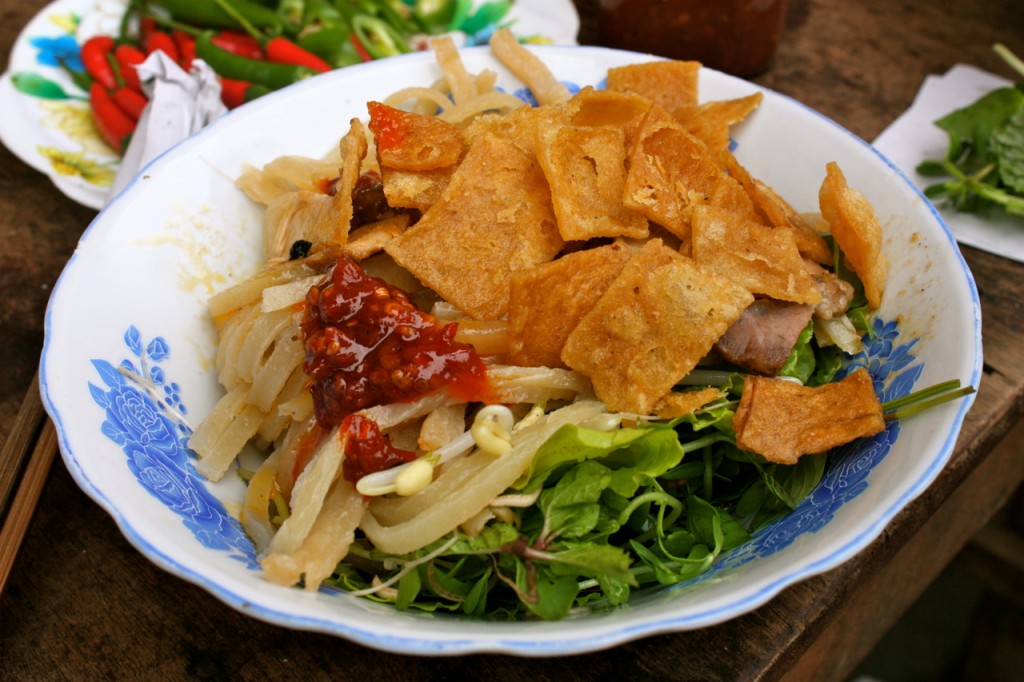 Quảng noodle or people still call Cao Lau, which is a representative local food of areas in the Middle of Vietnam. The delicious noodles mix special sauce and greasy meats, which create wonderful mixture of traditional cuisine. It's easy to find places where serve Cao Lau in Da Nang or Hoi An, you just wander around some streets, you can catch many vendors who serve Quảng Noodle
By the way, we want to recommend some places where is worth coming:
– Ba Ngan Quảng noodle – 108 Dong Da Street, Da Nang City
– Dinh Tien Hoang Quảng noodle: 53/53 Ong Ich Khiem Street, Da Nang City
– "An La Nho" restaurant: No.123A Tran Quoc Thao Street, district 3, Ho Chi Minh City
– My Son Quảng noodle: No.7 Ky Dong Street, district 3, Ho Chi Minh City
4. Bún bò Huế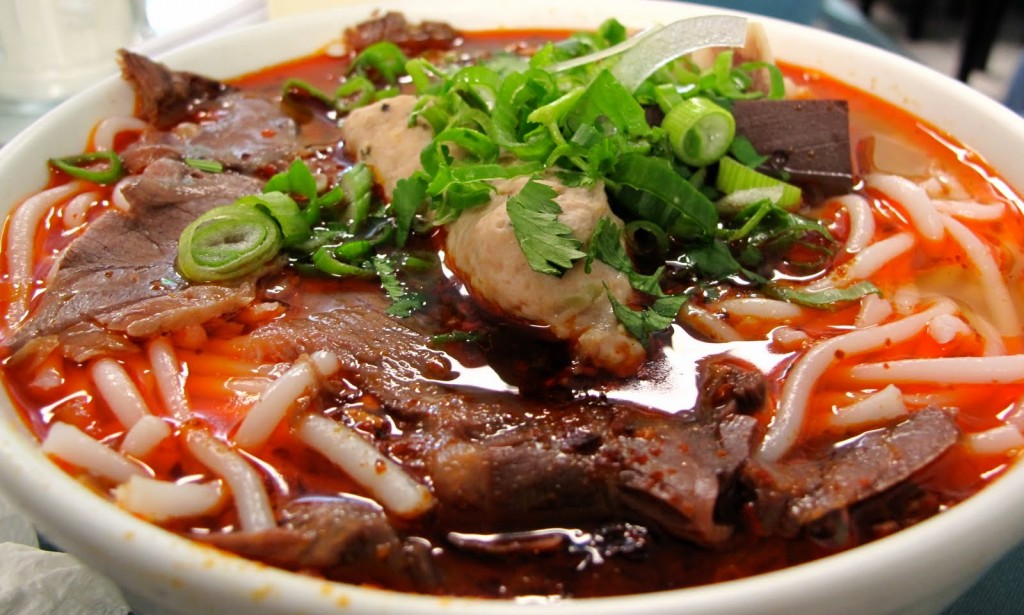 Anywhere in Vietnam, you are also able to enjoy Bun Bo Hue (Beef rice noodle) which has marvelous tastes, incredible smells and impress foreign tourists deeply. After turning back from long journey, you should wander around to find vendors who buy Bun Bo Hue, call a bowl with full ingredients and enjoy it, I make sure that you will have great feelings and understand more about the essence of Vietnamese traditional cuisine.
Bun Bo Hue is served with many different styles. Somewhere serves Bun Bo with dry pancakes or somewhere serves it with pork instead of beef and Vietnamese pork rolls.
Some recommended addresses of Bun Bo in Hue
– 14 Ly Thuong Kiet Street, Hue City
– Bun Bo at Bach Dang Street, Hue City (served only in the morning)
– Bun Bo My Tam at Le Duan Street, Hue City (served only in the afternoon and evening)
5. Gỏi cuốn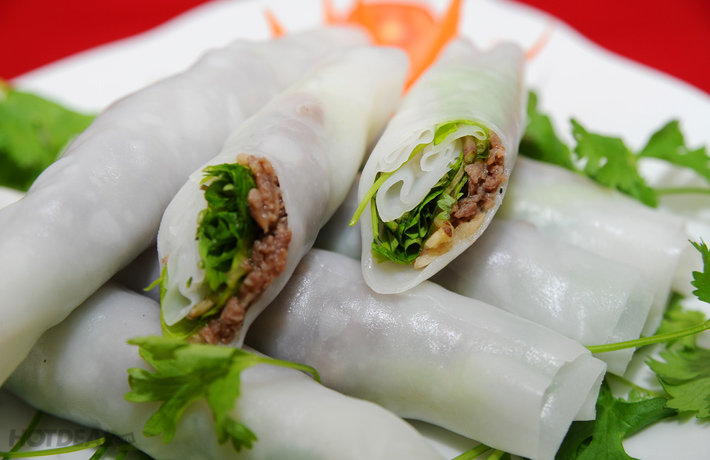 Although this is not Vietnamese specialty but Goi cuon (wrap & rolls) is always Vietnamese favourite dish as well as international tourists. Goi cuon is made simply, its ingredients include fresh noodle , dry pancake, meat, tiny shrimp and vegetables. You can be served with salted seasoning, it has incredible taste.
You can find places serve Goi cuon on Saigon's streets easily, and there are my some recommendations:
– Wrap & rolls restaurant: 97B Nguyen Trai Street, district 1, HCM City
– Ganh restaurant: No.58 Pham Ngoc Thach Street, district 3, HCM City
– Goi Cuon Ut Thuy: No.227 Ngoc Lam Street, Long Bien district, Hanoi
– Goi cuon on streets: you can find somewhere near your accommodation or asking local people.
With the richness of cuisine, Vietnam has a big pride of creating exciting experiences to tourists, especially foreign tourists who love to choose culinary tours.
You can wander around the streets, see some vendors, taste the smell of traditional foods near here, and your tummy is ready. So taking a seat and enjoy.
We strongly believe that the useful information above, you will have unforgettable memories when travelling to Vietnam. You will have opportunities to enjoy remarkable Vietnamese local foods. If you want to only try local specialties but also discover the local cuisine by joining to some cooking classes, Culinary Vietnam who specializes in culinary tour can help you to customize your own gastronomic trip from one to several days through Vietnam.